How Product Acquisition Impacts Patient Support Service Offerings: Buy and Bill vs. Specialty Pharmacy.
How Product Acquisition Impacts Patient Support Service Offerings: Buy and Bill vs. Specialty Pharmacy.
By Meghan Mullooly
At Archbow, we're often asked by our manufacturer clients, "What patient and provider service offerings do I need in order to build an industry-leading patient support program?"
The answer to that question can be complex and is dependent upon several factors. One key factor can be product acquisition and how it impacts the services and solutions that are needed to best support patients and other stakeholders involved in their treatment, including healthcare professionals (HCPs) and caregivers. Since patient support programs are typically designed and implemented for specialty products, these products are most often distributed via buy and bill and specialty pharmacy pathways.
It's important to begin with a clear definition of these acquisition methods and what they mean:
• Buy and bill is the method in which an HCP purchases the medication from a specialty distributor. After treating the patient, the HCP will submit a claim form to bill the patient's insurer for reimbursement. Coverage typically adjudicates through a patient's medical benefits, and the HCP will bill the patient for their cost-share portion of the medication and any administration-related fees.
• Specialty pharmacy, on the other hand, is when an HCP sends a prescription to the specialty pharmacy that carries the medication and that pharmacy directly bills the patient's insurer for the medication. Coverage may adjudicate through either the patient's medical benefit or pharmacy benefit, depending on insurance plan, the type of medication, how it is administered, and other factors. The specialty pharmacy will bill the patient for their responsibility of the medication cost. (Note that the HCP may still bill the patient for office visit-related fees and/or product administration-related fees.)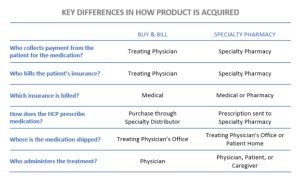 There are varied nuances between the point of prescription to initiation of treatment, depending upon how the medication is obtained. Since there are different players, reimbursement pathways, and considerations determining whether a medication falls under "buy and bill" or "specialty pharmacy," the patient support offerings that are most important for HCPs and patients will vary as well.
The largest difference is that a manufacturer's service offerings for a buy and bill product are typically geared toward supporting the HCP's access, acquisition, and reimbursement for the medication. On the other hand, service offerings for medications obtained through a Specialty Pharmacy are typically centered on providing direct assistance to the patient through coordination with the pharmacy, patient education, and caregiver support.
Specific services that are important to consider for a buy and bill medication include the following:
• Site of care coordination – determining all sites of care that could acquire the product and coordinating between the prescribing and treating facilities, if applicable
• Distribution pathways – helping the HCP understand where and how they can acquire the medication, and how the patient's coverage, out-of-pocket responsibilities, and access may differ for each
• Billing and coding guidance – educating HCPs on how to bill for the medication, understanding claim form requirements by payer, and informing the applicable drug and procedural codes
• Claims support – providing claims review services to ensure claims include all required information before they are submitted to an insurer, as well as claims appeal services to assist HCPs in the instance that a claim has been underpaid or denied
• Sample or voucher programs – providing patients and HCPs with access to medication while the HCP works through product acquisition
• Medical copay program solutions – building a copay program that will provide reimbursement to the HCP or patient after treatment Patient Support service offerings for a product obtained through a Specialty Pharmacy may need to include the following:
• Specialty Pharmacy coordination – determining mandated specialty pharmacies, white-bagging coordination (as needed), reimbursement support, and working with the specialty pharmacy to ensure they receive the prescription and can ultimately fulfill product, partnering to remove barriers to access along the way
• Quick Start and/or Bridge programs – programs that are geared toward helping a patient initiate and stay on medication expeditiously while working to obtain coverage through the patient's insurer on the back end
• Patient education – providing tools, materials, and resources to help patients as they initiate and stay on therapy, since most specialty pharmacy medications require a patient to self- administer (either orally, via self-injectable, etc.)
• Caregiver support – additional educational tools and resources intended specifically for caregivers who may be leading, assisting, or participating in product administration and/or other aspects of a patient's treatment journey
• Pharmacy copay program solution – building a copay program that will be applied prior to patient treatment so the patient doesn't have a large out of pocket cost-share responsibility
If you are preparing to launch a patient support program and need strategic guidance on how to build your program, which services should be included, and how to best communicate with your patient and HCP customers, Archbow can help. We have deep expertise in designing and customizing patient support programs and distribution strategies based on key factors related to your product, therapeutic area, and patient population. Contact us today to get started.